Get Top Dollars For All Your Scrap Metals
Call us now to sell your Scrap Cars, Metals, Copper, Brass, Aluminum, Stainless Steel, Batteries, Wires, etc.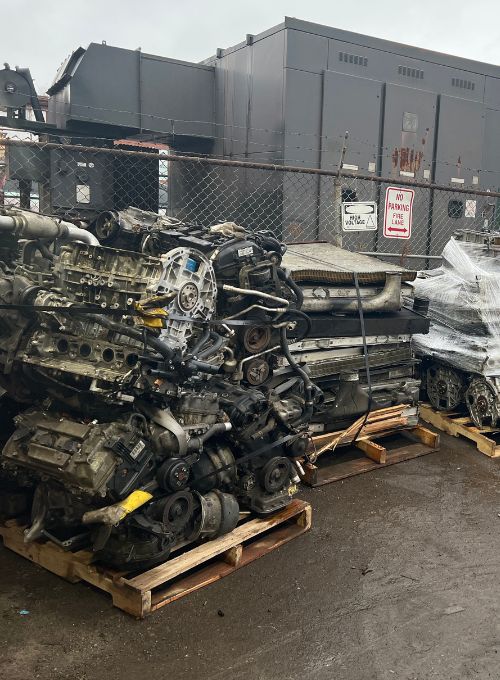 We are expert in metal recycling
I

We are a registered licensed holder with the City of Toronto for metal recycling.

I

We pay top dollar for all types of scrap cars and metals.

I

We provide you with electronic and or paper invoices for your records.

I

We protect the environment through a clean and sustainable recycling process.

I

We are safe, efficient, and honest in our business transactions.
We buy all types of Ferrous and Non-Ferrous scrap metals
Scrap Cars
scrapping your car so our specialty. We have tools to ensure the green recycling of your car. We will provide an electronic invoice for you to keep as a record and we take full responsibility to ensure a safe recycling process for your vehicle.
Copper and Brass
We buy all types of copper, it includes, bare bright copper, copper number one, number two, and copper number three. We buy all your brasses. Either it's hard brass, brass turning, C-Metal, faucet brass, yellow and red brass.
Scrap Metal
We specialize mainly in the scrap that comes from automotive, however, we also buy white hoods, dealer clips, and any other shred-able metals.
Aluminum and Stainless Steel
We buy all types of aluminum. Alloy wheels and aluminum car engine is our specialty however, we also pay top dollars for your extrusion and litho. We recycle soldered model sheets and solids including trimmed seams and edges, non-metallic filling, etc.
Battery and Wires
We only deal with lead acids battery. Lead acid batteries are usually a source of batteries that comes from your car, motorbike, boat, truck, or forklift. Bring all your wires for quick cash. If you can strip your wire and get pure copper out of it, you are guaranteed to receive a lot more money than selling copper wire with a jacket. Thicker gauge wires are better quality than the house or by wire.
Catalytic Converter
We specialize in buying all types of catalytic converters. Either it's from your domestic or foreign cars. As long it's original and not aftermarket, it worth your time and trip to sell us your catalytic converters. Please keep in mind that we do not buy catalytic converters from the public. Furthermore, we always need proof of ownership of your catalytic converter before we purchase your goods.
We hold an active scrap yard license with the City of Toronto
Our main goal is to protect the environment by maintaining a clean and sustainable recycling process. Our staff is knowledgeable and has received safety training for recycling, handling, and shipping. We work hard to keep our customers happy and save our environment from waste contamination.
Best Deal in Cash
Find out how much cash you can get for your old junk cars. Your unwanted vehicle could be anywhere in GTA or surrounding areas. We pay up to $5000 for your junk cars.
365 Days a Year
When removing your junk car, we take your calls seven days a week. So give us a call right now to get an estimate.
Any Condition
Accident? Doesn't Start? We will buy your junk automobile regardless of its condition or appearance and provide the highest cash price possible.
Zero Dollars Charge for Towing Your Car
Towing your scrap car requires a fee. This fee is one. You do not need to worry about paying the fee. We will send a tow truck at our cost and will remove your car. Alternatively, you can always drop off your car at one of our yards.
All Makes And Models
We will give you the most money possible for any old car, regardless of the brand, the model, or the year it was manufactured, and whether your car is dead or alive.
Cash Remittances
On the spot, we will give you top dollars in cash for your junk, scrap, and unwanted car. Alternatively, we can also send you a wire transfer or issue a cheque if required.
Application
You can get a fast quotation for your scrap vehicle by calling us, or you can fill out a short form to have someone call you back.
Recycling of Old Automobiles in an Eco-Friendly Manner
Program to recycle junk cars in a way that does not harm the environment, and to reuse and recycle as many components as possible from obsolete vehicles.
Hear from Our Happy Customers
Fair prices for copper scrap
Instant service within few hours. Stay with there promise.
Great service and prices bring ur scrap metal here
Nathan Ursulak
2023-01-09
Delt with me quick and was friendly
Tristan Maltman
2023-01-05
Very friendly staff, good prices, & quick service. Would recommend as a great drop-off
Fareed Bandukwala
2023-01-03
Great customer service!! Excellent help!!
Very nice people. We had some old metal from our home renovation and were able to bring it here instead of it ending up in a landfill. If you are renovating your home, save the copper, and recycle at places like this!
Hey my friends I came here to BEST WAY METAL RECYCLING, I sold my radiator and left happy... fully recommend!!!😀👍🫶🌀
Demetrois Alafogiannis
2022-12-15
Great prices, helpful crew!
Shant Shirinian
2022-12-07
Great service, great pricing and always quick
Get Top Dollars For All Kinds of Scrap Metal