Scrap Battery Recycling Scarborough
We buy all kinds of Scrap Baterries for the best prices.
Bestway Battery Recycling is at the forefront of providing responsible and efficient battery recycling solutions in Scarborough. Don't let your old batteries contaminate our environment. Bring them to us, and we'll ensure they are recycled with utmost precision and care.
Why Choose Bestway Metal Recycling for Your Battery Recycling
Bestway Battery Recycling isn't just any recycling service; we offer specialized solutions for battery recycling. Our mission is two-fold: safeguarding our environment and ensuring our clients get the best service possible. Here's why we stand out:
Environmental Protection: Batteries can be harmful if not disposed of correctly. We ensure that every battery we collect undergoes a stringent recycling process, preventing hazardous waste from affecting our ecosystem.
Top Market Rates: We provide our clients with the best prices for their scrap batteries, ensuring you get value for your recyclable waste.
Quick and Hassle-free Service: We pride ourselves on efficient and reliable services, making the recycling process smooth and effortless for our clients.
Compliance with Standards: We adhere to all local and international recycling standards and regulations. Our recycling methods are both environmentally friendly and legally compliant.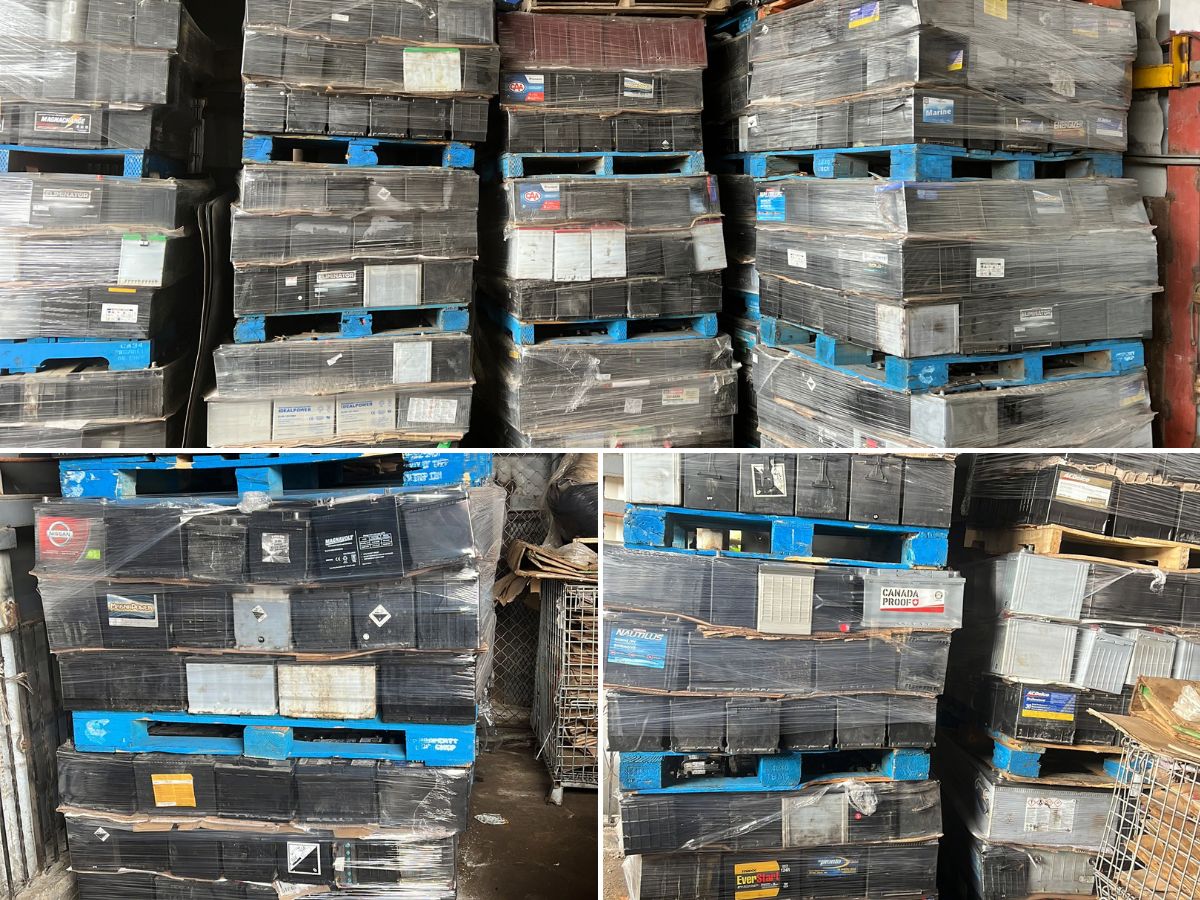 Our Comprehensive Battery Recycling Process
The process we employ at Bestway Battery Recycling is tailored to guarantee the safe and efficient recycling of various types of batteries. Here's a brief overview:
Collection: Reach out to us, and we'll arrange for a convenient collection of your scrap batteries, whether you're an individual or a business.
Classification: Different batteries contain different materials. We sort them out based on their chemical composition.
Neutralization: The harmful acids in the batteries are carefully neutralized, preventing any environmental contamination.
Material Recovery: Useful materials, like lead and plastic, are separated and prepared for recycling.
Re-purposing and Re-use: The extracted materials are then recycled to produce new batteries or other products.
Types of Batteries We Accept
Whether alkaline or lithium-ion, we handle various batteries at Bestway Battery Recycling:
Car Batteries
Laptop Batteries
Cell Phone Batteries
Alkaline Batteries
Nickel-Cadmium Batteries
And many more…
The Need for Battery Recycling
Batteries contain chemicals that can be detrimental to the environment if they leak. By recycling them, we prevent soil contamination, water pollution, and other environmental hazards. Moreover, recycling also aids in conserving energy and resources that would otherwise be used to produce new batteries.
Commitment to a Sustainable Environment
Bestway Battery Recycling is more than just a recycling service. We're advocates for a cleaner, sustainable environment. By trusting us with your scrap batteries, you're actively participating in a movement to make our world a better place.
If you have old batteries lying around, now's the time to act. Connect with us today and play your part in preserving our environment while also getting the best returns for your recyclable waste.
Being the pioneers in battery recycling in Scarborough, we ensure that the recycling process is transparent, efficient, and beneficial for both our clients and the environment. Dive into a greener future with Bestway Battery Recycling. Reach out now!
Frequently Asked Questions (FAQs)
What types of batteries do you accept for recycling?
We accept a wide range of batteries, including car batteries, laptop batteries, cell phone batteries, alkaline batteries, nickel-cadmium batteries, and many more.
How do I drop off my batteries for recycling?
You can contact us to schedule a pick-up or visit our facility in Scarborough to drop off your batteries. Our team will guide you through the process.
Is there a fee for recycling my batteries with Bestway?
The fees may vary based on the type and volume of batteries. However, we often offer competitive rates for larger quantities. Contact us for detailed information on pricing.
Why is it important to recycle batteries?
Batteries contain chemicals that can be harmful to the environment if they end up in landfills. Recycling them prevents soil and water contamination and conserves resources used in the production of new batteries.
How do you ensure environmental safety during the recycling process?
Our recycling process adheres to stringent environmental regulations. We neutralize harmful acids, segregate materials effectively, and employ eco-friendly practices throughout the recycling process.
Do you offer residential pick-up services?
We primarily operate through drop-offs at our facility in Scarborough. If you have a bulk quantity or special circumstances, please contact us to discuss potential arrangements.
Can I get paid for my old batteries?
Yes, we provide competitive market rates for scrap batteries. The payment may vary based on the type and volume of batteries you provide.
What happens to the batteries once they're recycled?
Post-recycling, the extracted materials from batteries, like lead and plastic, are reused to produce new batteries or other products, ensuring minimal waste and maximum resource utilization.
How does battery recycling contribute to energy conservation?
Recycling batteries uses significantly less energy than sourcing materials and producing new batteries from scratch. This conserves energy, reduces carbon emissions, and contributes to a sustainable environment.
Ready to Recycle? Let's Get Started!
Metal recycling is more than a transaction; it's a statement. A statement that you care for the planet, future generations, and sustainable growth. Join hands with Bestway Metal Recycling, Toronto's trusted metal recycling partner. Together, let's craft a greener future, one metal piece at a time.