We take all kinds of scrap from aluminum and stainless steel to copper and brass.
We buy all kinds of metal scrap for best prices.
The Canadian company Bestway Metal Recycling is well-known for purchasing and selling various metals around the country. We are an industry leader in the recovery and recycling of scrap metals, as well as transforming these metals into valuable raw materials, all while maintaining a high standard of customer service.
We are interested in purchasing all brands and types of international and domestic automobiles, trucks, sport utility vehicles, and minivans. Call us if you need us now, we can help in any way possible for recycling your scrap car or metals. We will top dollars depending on the market value of your goods. We are available seven days a week and will come to your place to pick up the vehicle at no additional cost. We would gladly pick up your vehicle and hand you cash, regardless of whether it is in the Greater Toronto Area or elsewhere in the surrounding area. We provide free removal services on the same day.
We are a recycling center like no other, with extensive knowledge and years of experience in recycling solutions worldwide. We keep up with the current prices on the market by monitoring the London Metal Exchange, which enables us to provide competitive pricing. For the goal of resale, we are collecting, buying, upgrading, and packaging various types of non-ferrous and ferrous scrap metals and catalytic converters.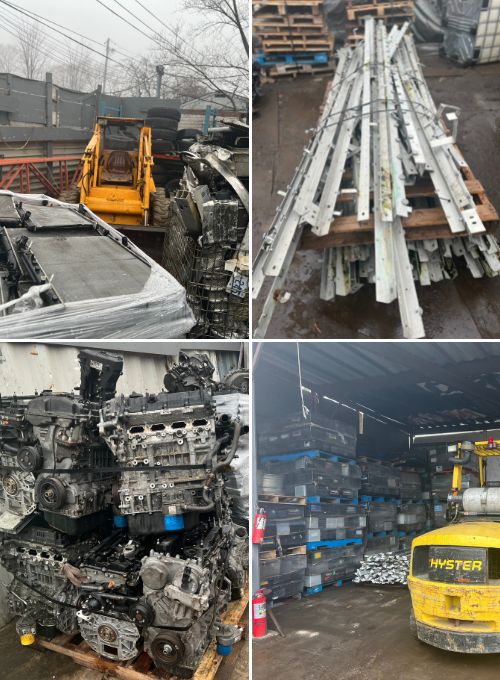 Materials include but are not limited to:
Cars
Copper
Aluminum
Brass
Stainless steel
Insulated wires and cables
Motors
Lead
Scrap auto parts
Catalytic Converters (We buy catalytic converters only with proof of ownership and NOT from the GENERAL PUBLIC.)
Frequently Asked Questions (FAQs)
What types of metals do you accept?
We accept all ferrous and non-ferrous metals including scrap Copper, Brass, Aluminum, Stainless Steel, and more.
Do you buy Electric Motors and Wires?
Yes, we buy Electric Motors and Wires.
How do I sell my scrap car to Bestway?
Just call us, and we'll guide you through our scrap car removal process.
What do you mean by "we pay top dollar"?
It means we offer the best market rates for your scrap materials.
How do I get paid?
We pay cash on the spot for your scrap materials.
Where is your drop-off location?
Our only drop-off location is at 123 Manville Road, Unit 6A, Scarborough, ON M1L 4J7.
Do you offer pickup services?
No, we do not offer pickup services currently.
What's the process for Catalytic Converter recycling?
We buy catalytic converters, but only with proof of ownership and NOT from the general public.
Do you buy batteries?
Yes, we purchase various types of scrap batteries.
What's the difference between scrap car buyer and junk car buyer?
They refer to the same service, where we buy cars irrespective of their condition.
How is the price for scrap determined?
Prices are based on current market rates and the condition of the scrap.
Is there any material you don't accept?
We don't buy catalytic converters from the general public without proof of ownership. We also do not buy plastic materials.
Why is proof of ownership required for Catalytic Converters?
It's a measure against theft and ensures legitimate transactions.
How long does the recycling process take?
The duration depends on the type and volume of material.
Is recycling with Bestway eco-friendly?
Yes, our processes are designed to minimize environmental impact.
Do you accept scrap machinery?
Yes, we buy various kinds of scrap machinery.
How can I be sure I'm getting a fair price?
Our transparency, market knowledge, and licensed status ensure fair pricing.
Do you offer junk car removal services?
Yes, we provide efficient junk car removal services.
What documents do I need to sell my car for scrap?
Basic documents like ownership proof and identification are typically needed.
Why should I recycle my scrap metals?
Recycling conserves resources, reduces landfill waste, environmentally beneficial, and protects our environment.
Ready to Recycle? Let's Get Started!
Metal recycling is more than a transaction; it's a statement. A statement that you care for the planet, future generations, and sustainable growth. Join hands with Bestway Metal Recycling, Toronto's trusted metal recycling partner. Together, let's craft a greener future, one metal piece at a time.
Get Top Dollars For All Kinds of Scrap Metal